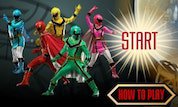 Click "Allow" to play Gates of Darkness!
Click "Always allow" to play Gates of Darkness!
There are some games on Disney--Games.com which require Flash. Enable it above.
Allow Flash pop-up not showing up? Click here
Many browser games, especially the older ones, are developed using Flash. Each game on our website is thoroughly checked before publishing so you can rest assured that playing Flash Games on Disney--Games.com is absolutely safe. For any questions or issues, please Contact Us.
First, you need to wait for the page loading to complete to see the Allow button.
Disney--Games.com
About Gates of Darkness Game
Help the Rangers to find Udonna in the Gates of Darkness game! It is the time for them to defeat all the Hidiacs and to prove themselves as heroes. This game is as challenging and complex as it can be. Only those with exceptional skills and nerves of steel can end it successfully so try yourself out! What you have to do is to guide your Ranger using the arrows on your keyboard trough each level until you accomplish your mission: saving Udonna from the evil hards that kidnapped her. Ready to play? Then press play and have a look at the instructions before you hop into the game. Here you are told what you are required to do, namely to collect the keys of the gates that connect the stages between them. Once the key is picked up, the gates will open. But do not be fooled by the looks of it, even if the guards do not look very dangerous, they are. When and if they manage to get you, you will lose part of your precious health. On your journey, collect all the crystals you can find; they are the ones that give power to your magic wand. Without them, you will remain without any firepower, and you will undoubtedly become easy prey for your enemies. If you see any shiny circle on the ground, you can be sure that you have found a transformation platform. They are remarkably helpful when you find yourself with a lack of stamina because it will change you into a new Ranger and fill up your health bar. It will surely come in handy! Oh, almost forgot to mention the Wormhole shortcuts. They look like holes in the ground but a little bit different. What is quite neat about them is the fact that they transport you from one place to the other in a matter of seconds. The only drawback is that they only take you to another wormhole, not anywhere you would like to go. Anyhow it is still a good plan of escaping a somewhat tense situation when you find yourself surrounded by nasty Hidiacs. Now when you think you are ready, press play and jump right into the game to study a little bit what can you find over there. First two things that should pop into your attention are the two bars at the bottom of the screen. The first one is showing you how much firepower you have left in your wand, so you won`t find yourself in an unpleasant situation where you can not do anything but stand still like a mummy instead of attacking. The other bar is the one that that shows you the level at which your remaining health currently situates itself. As you play, it will remind you when it is time to change your ranger for a boost. If you pay close attention to it at all times, it will reduce the number of times you will lose points. In the upper left part of the screen, you will be able to see two small bubbles. The first one will turn off the music if you click on it. The second one will give you two choices, either quit the game or resume it, but remember that leaving a game means that you lose all the progress that you have made while you played. In the right corner, there are again two bubbles one will pause your game in case you need to leave the computer, and the other one will show you again the instructions, in case you need to refresh your memory. The long yellow bar in the upper middle part of the screen tells you how much more time you have left to finish the current level. Always keep an eye on it because if you do not, your time will fly by before you even notice and sadly you will lose the game. Next to the Time bar, there is your score counter that will measure all the points that you have gathered while playing. This game has many levels that you have to complete before finishing the game. Each one comes with a different background and with new enemies that are more and more difficult to defeat. Gather all your strength, overcome the evil guys and save Udonna before it is too late!
Game Details and Stats
Gates of Darkness is an excellent Power Rangers game that you can play on Disney--Games.com for free. It has been added to our website on Tuesday, June 26, 2018. The game has been played 36693 times so far and has received a rating of 87 / 100 from a total of 38 user votes, 33 likes and 5 dislikes. Gates of Darkness uses Flash technology to be compatible with most browsers. The game window resolution has been optimized for best visual performance, having the width of 660px and the height of 490px. If you enjoy playing Gates of Darkness, you might be excited finding out that there are 11 more Power Rangers games you can try! The most popular is Power Rangers Dress Up and the most recently added is Samurai
You may also like these games