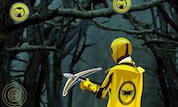 Click "Allow" to play Mystic Training!
Click "Always allow" to play Mystic Training!
There are some games on Disney--Games.com which require Flash. Enable it above.
Allow Flash pop-up not showing up? Click here
Many browser games, especially the older ones, are developed using Flash. Each game on our website is thoroughly checked before publishing so you can rest assured that playing Flash Games on Disney--Games.com is absolutely safe. For any questions or issues, please Contact Us.
First, you need to wait for the page loading to complete to see the Allow button.
Disney--Games.com
About Mystic Training Game
If you are looking forward to being like one the famous Power Rangers, then speed everything up and start an intense preparation in Mystic Training game. Excited already? So am I. Before you start anything let us have a quick look at how to play. Here you are told that the mission assigned to you is to train with the Rangers and to complete a series of five different challenges wich each one of them. You also find out here that once you successfully finish all of the five tasks a new special one will be unlocked where you will have to defend the Rootcore against the terrible Morticon and his fellows Hidiacs. Further on you will find out that you can choose between two levels of difficulty. The first one called Practice is the easy one, and the other named Power Up is the more difficult one. At first, I recommend starting with the easier one because this way you will be able to understand the game better and ultimately to play like a pro. To play, you do not need anything but your mouse and good reflexes. When you are ready reading all the instructions, you can press the Play button to start. Now comes the hard part, try to choose one of your favorite characters or take them one by one until you finish your training. Let us start first with the Electric Bolts. After selecting the Yellow Ranger as your master, the instructions for his challenge will appear on your screen. What you have to do here is relatively easy, send electric shocks towards the moving targets to fry them a little bit. To do that hold your mouse to build up power and release it to fire. But take care not to produce too much, or you will destroy the targets and eventually lose precious points. Got it? Good. Click play and enjoy! While you play, a few new buttons will appear around the screen. In the upper part, you will be able to see your score so far and a little bit more to the right there will be the Menu icon. It will open a list, from where you can choose to do different things such as turning on or off the music, looking again over the instructions or even going back to pick up another training. When you finish with it, hit resume to go back to the game or quit if you prefer to end your lessons here. It is important however to know that once the game finishes all the progress made will be lost. In the bottom right corner, you can see the number of targets that you have destroyed and how many are left untouched. Last but not least, do not forget about the power circle in the bottom left corner. When you prepare to hit the target, it will color itself accordingly with the power with which the next hit will have. Finish this training and go to the next one with the Blue Ranger. What you are required to do here is to create pillars of water to help her cross the ravines. Anticipate where her next step will be and create a water column by clicking wherever you think it`s right. Try to click as accurately as possible to prevent her from falling and accordingly losing the game. Next comes the Pink Ranger with her shapeshifting challenge. Select the animal which you think that can pass the obstacle that blocks the way. On the left part of the screen, there are three circles, one with the image of a butterfly, another with a falcon and the last is a snake. Shapeshift as fast as you can to avoid getting hurt. Tired? I hope not because now it is the time to train with the Green Ranger. His training consists of building protective walls against mystic attacks. Click on the place where you want to make plants grow and fortify them whenever is necessary. The goal is to create a whole wall that will resist at any strikes. Last but not least, here comes the Red Ranger. Take his fire sword, block every oncoming attack and absorb all of its power. Do that until it loads all as much as it can and after that, aim at the source of the attacks and fire! After this last challenge, you training is finally complete! You are now one of the Rangers!
Game Details and Stats
Mystic Training is an excellent Power Rangers game that you can play on Disney--Games.com for free. It has been added to our website on Wednesday, June 27, 2018. The game has been played 41688 times so far and has received a rating of 80 / 100 from a total of 49 user votes, 39 likes and 10 dislikes. Mystic Training uses Flash technology to be compatible with most browsers. The game window resolution has been optimized for best visual performance, having the width of 660px and the height of 490px. If you enjoy playing Mystic Training, you might be excited finding out that there are 11 more Power Rangers games you can try! The most popular is Power Rangers Dress Up and the most recently added is Samurai
You may also like these games