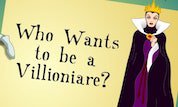 Play Now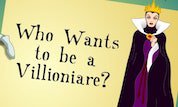 Unfortunately Snow White Villionaire is not available on your device. Please try one of the related games instead or visit our HTML5 category.
This Flash game is loaded using an emulator. If you notice any glitches(such as the game getting stuck or music/sound missing), click to play the original version with NuMuKi Browser for the best experience.
About Snow White Villionaire Game
We all know that the world of princesses can be the most beautiful one ever. Even so, there are evil characters who try to trick you and make you play by their own rules. In Snow While Villionaire game, the Evil Queen is trying to make you win a quiz game about Snow White and the Seven Dwarfs and get One Villion Dollar.
The game is based on the same concept widely known from the popular contests "Who wants to be a Millionaire?" or "Who wants to be a Billionaire?", but featuring specific Disney related questions.
How to play the game
When the game begins, you will have 30 seconds to select your response and to confirm it as your final answer. When the red timer finish, your time will be over. If you are not sure of a solution, you can get help from your Lifelines. The good thing is that you can use more than one Lifeline per question, but the bad news is that once wasted, they do not come back for the entire game.
One lifeline is 50/50. It will remove two incorrect answers and let you with the other two. If you decide to call a friend, the lifeline will connect you with Cruella. You can follow her advice, but it might be possible that she is lying and she will give you a false answer. You never can trust a villain. The third lifeline is the Audience one. If you use it, you can see what the audience votes.
Try as much as possible to guess the answers for yourself and win one Villion dollar. The wicked world will try to get in your way, but with a little luck, you will be able to get to the top.
If you enjoy playing Snow White Villionaire, you might be excited to find out that there are 51 more Princess games you can try! The most popular is Cinderella Dress Up, and the most recently added is Modern Jasmine Dress Up