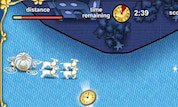 Play Now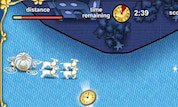 Unfortunately Cinderella Escape is not available on your device. Please try one of the related games instead or visit our HTML5 category.
This Flash game is loaded using an emulator. If you notice any glitches(such as the game getting stuck or music/sound missing), click to play the original version with NuMuKi Browser for the best experience.
About Cinderella Escape Game
Cinderella needs help getting home in the Cinderella Escape game. The ball was so beautiful and the prince so dreamy that Cinderella forgot she was supposed to leave before midnight, and now the Fairy Godmother's spell is about to run out! The carriage could turn into a pumpkin and the horses into mice before she gets home! Will you help her?
Use the up and down arrow keys to steer and the left and right arrows to slow down and speed up. Navigate through the town picking any paths you want, and collect everything in your way for extra points. Keep an eye on the timer and distance meter at the top, though. It can run out before Cinderella gets home.
Useful tips
For an extra time, you can collect watches on your way, but even in desperate times like these, you should still watch where you're going! If you crash into the side of the road, the spell will break, the coach will turn into a pumpkin with Cinderella still inside, and Gus and the other mice won't be horses anymore!
Worst of all, if Cinderella doesn't make it, the stepmother will know she went to the ball! The game will place you back on the road, sure, but you'll have lost some time. And if that runs out, it's game over. We can't let that happen!
How good of a driver are you? How quickly can you get Cinderella out through the city's gates and back home? And what's your high score?
If you enjoy playing Cinderella Escape, you might be excited to find out that there are 51 more Princess games you can try! The most popular is Cinderella Dress Up, and the most recently added is Modern Jasmine Dress Up