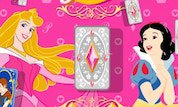 Play Now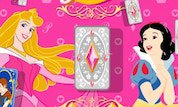 Unfortunately Princess Jewel Box is not available on your device. Please try one of the related games instead or visit our HTML5 category.
This Flash game is loaded using an emulator. If you notice any glitches(such as the game getting stuck or music/sound missing), click to play the original version with NuMuKi Browser for the best experience.
About Princess Jewel Box Game
Play cards like Disney Royalty in this Princess Jewel Box game. If you like Disney movies and simple games with a collectible element, this is for you! You play against two computer-controlled opponents, present at the top, but they are surely no match for your extraordinary skill.
All you need to do is pick a jewel card from either of the two decks at the top. You will have drawn one of four types of cards: green, blue, purple and pink. Green cards don't do much. They have pictures of classic Disney props, like the Genie's lamp, or Beast's rose. If you draw one, you keep it.
How to play the game
Blue cards have princes on them, such as Adam (Beast), Aladdin and Eric. Every prince card you draw gives you the right to pick another card.
Purple cards are villain cards. Iago, Ursula, Jafar and the rest are out to steal all the cards you're holding! If you draw a villain card, all of your cards will go to the free zone, in the middle of the screen.
But the Disney Princesses are here to save the day! If you draw a pink princess card, all the cards in the free zone become yours!
When your turn is over, the next player to the left follows, until there are no more cards at the top. Once there are no more cards at the top, the player holding the most cards wins! And there's a prize, too. Every single time you win, you will be awarded a collectible princess card. There are 18 of them. Can you get them all?
If you enjoy playing Princess Jewel Box, you might be excited to find out that there are 51 more Princess games you can try! The most popular is Cinderella Dress Up, and the most recently added is Modern Jasmine Dress Up