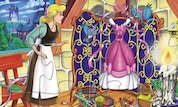 Play Now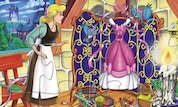 Unfortunately Cinderella Puzzle Game is not available on your device. Please try one of the related games instead or visit our HTML5 category.
This Flash game is loaded using an emulator. If you notice any glitches(such as the game getting stuck or music/sound missing), click to play the original version with NuMuKi Browser for the best experience.
About Cinderella Puzzle Game Game
Solve a lovely jigsaw puzzle in this Cinderella Puzzle game! The mice and birds have just sewn Cinderella a dress for the ball where she will meet the prince. Isn't it beautiful? Of course, her stepsisters are terrible people, and she won't get to wear it, but that's what Fairy Godmothers are for! Build this lovely picture out of jigsaw pieces with your mouse.
When you put two pieces together the right way, they will stick, and you will be able to move all of them around to where they need to be. The game has four difficulty settings with a different number of pieces each, from 12 on easy to 192 on expert. Pick whichever you want to do, you'll still get the same lovely picture.
Useful tips
Just remember, the game is timed, and you want to finish your puzzle before the timer runs out. If you'd like to play at your own pace, though, I'll tell you a secret. You can click the little "T" button on the bottom right to turn the timer off and play at your own pace! Isn't that great?
After you've picked your difficulty mode and chosen whether you want a timer or not, don't forget to hit the "Shuffle" button. It's red, you can't miss it. If you don't click that, the puzzle will look solved and not be very interesting. Once you've done that, you're all set.
Now all you have to do is solve the puzzle, and it's almost as much fun as going to the ball yourself.
If you enjoy playing Cinderella Puzzle Game, you might be excited to find out that there are 51 more Princess games you can try! The most popular is Cinderella Dress Up, and the most recently added is Modern Jasmine Dress Up