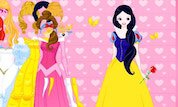 Play Now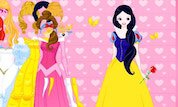 Unfortunately Cinderella Dress Up is not available on your device. Please try one of the related games instead or visit our HTML5 category.
This Flash game is loaded using an emulator. If you notice any glitches(such as the game getting stuck or music/sound missing), click to play the original version with NuMuKi Browser for the best experience.
About Cinderella Dress Up Game
Play our Little Cinderella Dress Up game to help the princess choose how what she should wear tonight. She's having a ball and wants to look lovely, and she specifically asked for your help, and nobody else's!
On the left side of the screen, there are several outfits and hairstyles which are inspired by the characters you may already know and love. There's one based on Rapunzel, with long blonde hair and a lovely purple dress. There's also Snow White's iconic black bob cut and her slim-fitting red, gold and royal blue outfit. You can also notice Aurora's pink dress and her soft curls. The list continues with a pair of poofy trousers and a tube top inspired by Jasmine (as well as her long, thick hair), a stylish updo that takes a page from Belle's book, a glamorous red-and-gold gown, Ariel's disheveled red mane, and loads of accessories.
Be creative and choose the perfect combination
You can pick any crown you want, or maybe give her Snow White's cutesy red bow or Cinderella's more sophisticated blue headband. You can throw white or golden gloves into the mix, and you can leave or remove the rose, all while a lovely piano tune helps you stay inspired. There's even a pristine white dress with subtle gold trims. Is the princess getting married?
All you need is your mouse. Pick whatever outfit you think suits your princess best, to make sure that she has the time of her life and feels fantastic the whole night through! You can do it. You're only the best fashion stylist in the entire kingdom, after all!
If you enjoy playing Cinderella Dress Up, you might be excited to find out that there are 51 more Princess games you can try! The most popular is Disney Cinderella, and the most recently added is Modern Jasmine Dress Up