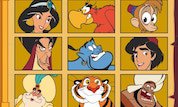 Play Now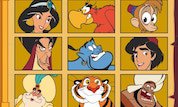 Unfortunately Aladdin's Quest is not available on your device. Please try one of the related games instead or visit our HTML5 category.
This Flash game is loaded using an emulator. If you notice any glitches(such as the game getting stuck or music/sound missing), click to play the original version with NuMuKi Browser for the best experience.
About Aladdin's Quest Game
Jaffar kidnapped Jasmine again in Aladdin's Quest Game. And he will not let her go, not before you pass all the tricky mind tests that he made to keep you away from her. Prove him that he made the biggest mistake by challenging your mental skills and beat all the records.
The mission is organized in three stages. In the first one, you have to try to guess which figure is behind the panel. Small parts of it will flash randomly, and you have to reconstruct the whole picture in your head, all there in a limited amount of time. When you consider that you have figured out who is in the hidden photo, click on the suitable image from the right side. Easy as pie! Did Jaffar think that he had gotten you with this trick?
Complete all the levels
Pass all the ten floors, and then the following stage starts. Here you will have to copy the parrot's moves, oh, the irony in this! Press the keys that you are indicated, to lower or raise the red and the white flags just like that parrot does. There is no way you could have trained your fast response better than with this bird.
It is so entertaining that you will not even notice how all the ten floors passed until you get to the third and last stage. Here the game turns to more memory-related training, in other words, you will have to remember the order in which the images of the characters appear. After you have seen everything, click on them accordingly.
Now you are ready to go and get the girl!
If you enjoy playing Aladdin's Quest, you might be excited to find out that there are 51 more Princess games you can try! The most popular is Cinderella Dress Up, and the most recently added is Modern Jasmine Dress Up