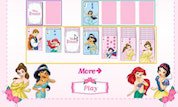 Play Now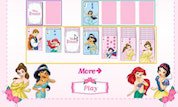 Unfortunately Princess Solitaire is not available on your device. Please try one of the related games instead or visit our HTML5 category.
This Flash game is loaded using an emulator. If you notice any glitches(such as the game getting stuck or music/sound missing), click to play the original version with NuMuKi Browser for the best experience.
About Princess Solitaire Game
Like any properly made and traditional solitaire game, the purpose of Princess Solitaire is to stack the cards in order, starting with the Ace and ending with the King of each of the four suits. Here, the suits of the deck include icons from your favorite Disney Princess movies, including Snow White's poisoned apple, Belle's favorite little teacup - Chip! - Jasmine's beautiful perfume bottle, and happy little starfish for the under-sea princess, Ariel!
All the familiar and time-honored rules are still in place, including the fact that only Kings may fill an empty space once it has been cleared of other cards. Also, the opposing colors - pink and blue instead of the usual black and red - must alternate as you stack the cards in numerical order (Jack over Queen and seven over eight), rearranging them to expose the next card necessary to stack them, in order, on the four spaces above.
Useful tips
If you run into a situation where no cards can be played on the board, the stack of random spare cards can be tapped to offer a little help, offering random options for filling in gaps. Fortunately, (unlike some more stringent versions) there are no rules about how many times you can click through the extra cards pile, so don't be afraid to flick through them and see what is available!
There's also no limit to the number of cards you can move at the same time, so long as they are in their alternating stacks! Instructions, along with an animated demonstration, can be found at the bottom of the game page by clicking the labeled button. Double-clicking cards can send them up to the stacks, without needing to drag and drop them, but only if the pile is ready to take them!
If you enjoy playing Princess Solitaire, you might be excited to find out that there are 51 more Princess games you can try! The most popular is Cinderella Dress Up, and the most recently added is Modern Jasmine Dress Up