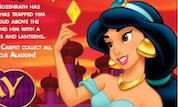 Play Now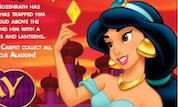 Unfortunately Jasmine's Flying High is not available on your device. Please try one of the related games instead or visit our HTML5 category.
This Flash game is loaded using an emulator. If you notice any glitches(such as the game getting stuck or music/sound missing), click to play the original version with NuMuKi Browser for the best experience.
About Jasmine's Flying High Game
Aladdin got kidnapped, and his princess is here to rescue him in Jasmine's Flying High Game. She is not to be fooled around with, she has the magic carpet with her, and she is determined to get back what is hers right now. Help her get through the walls made of jewels and lamps and get to her beloved as quickly as you can.
How to play the game
What you have to do is move the carpet under her to the left or right so that she doesn't fall to the ground. Try to guide her further movements by letting her step on the outer or inner parts of it. If she leaps from its edges, she will go to the left or right, whereas if she jumps from the middle section, she will bounce straight up. Be careful to watch her every move otherwise, she will have a great fall to take and who knows how bad she will get hurt.
Once Jasmine touches a diamond, regardless of its color, it will disappear straight away, but with the lamps, it gets a little bit more difficult. They need to be touched two times to go away. If you happen to let her fall for one or two times there will be no problem, but the third time you will, unfortunately, lose the game. So take a lot of care!
The game has three levels through which you have to get, each of them being more and more difficult than the previous one. Once you get a grip on how things are going around here, you will find it very entertaining!
Have fun!
If you enjoy playing Jasmine's Flying High, you might be excited to find out that there are 51 more Princess games you can try! The most popular is Cinderella Dress Up, and the most recently added is Modern Jasmine Dress Up