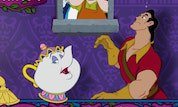 Play Now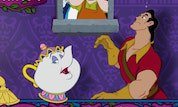 Unfortunately Gaston's Castle Clamor is not available on your device. Please try one of the related games instead or visit our HTML5 category.
This Flash game is loaded using an emulator. If you notice any glitches(such as the game getting stuck or music/sound missing), click to play the original version with NuMuKi Browser for the best experience.
About Gaston's Castle Clamor Game
Belle and Beast cannot have a single moment of silence in their home. Come and play Gaston's Castle Clamor Game and give them a hand to get rid of that annoying pack of muscles. But that will not be that easy because Gaston hardly gives up anything.
How to play the game
What you have to do is to prevent him from getting to either Belle, her father or the Beast. To do that, drop the appropriate thing from the roof so that they would catch it and then move to another window. Each character can grab only one particular object; namely, she can take just books, he will not get anything but roses, and the father will get only his unusual inventions. Once you will drop them their things they will go away from the window and Gaston will go towards the next target.
To move around, you have to press the left and right arrows so that you will be able to reach for every window in the castle. When things will get too hard, and that annoying brat is getting too close, press the Spacebar and give him a good old cold bath and take him to rest for a while. Maybe this way he will learn once and for all that he shouldn't mess around with Belle and Beast.
If you are not able to get to him in time, do not worry, Mrs. Potts and her son Chip will be there to save you, and they will stop him, but only for three times. So do not rely solely on them to prevent him from doing any harm. Now hurry up and help them up!
If you enjoy playing Gaston's Castle Clamor, you might be excited to find out that there are 51 more Princess games you can try! The most popular is Cinderella Dress Up, and the most recently added is Modern Jasmine Dress Up