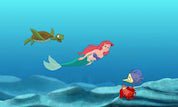 Play Now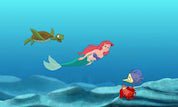 Unfortunately Little Mermaid Secret Sea Collection is not available on your device. Please try one of the related games instead or visit our HTML5 category.
This Flash game is loaded using an emulator. If you notice any glitches(such as the game getting stuck or music/sound missing), click to play the original version with NuMuKi Browser for the best experience.
About Little Mermaid Secret Sea Collection Game
Play the Little Mermaid Secret Sea Collection game and help Ariel hide her stuff from Ursula! You've seen the movie, so you probably know that the daughter of Triton is, for all intents and purposes, an anthropologist. She studies human society and behavior, and for that, her secret collection of strange objects from land is essential. Even if she usually gets the names all wrong.
But Ursula is coming, and Ariel doesn't want her collection of knick-knacks and doodads to be in danger, so she's bringing them all up to the surface for Scuttle the seagull to fly them away to safety.
How to play the game
You have to use the arrow keys to navigate the level and dodge the fish as best as you can. Some will push you back, while others can even cause you to drop whatever you're carrying. You can only take one item at a time and must bring it to the surface before you can dive again.
Picking up an air bubble from Flounder will protect you from sea creatures that make you drop your items, and Sebastian will sometimes give you extra lives, shown in the top right corner, and which you lose if you run out of time. With every level, you have more items, but the time limit is always the same: 2 minutes. So don't get stuck trying to swim against any stubborn turtle, because they will stall you. And remember that even if the starfish looks like it's part of the décor, you have to take that with you as well.
If you enjoy playing Little Mermaid Secret Sea Collection, you might be excited to find out that there are 51 more Princess games you can try! The most popular is Cinderella Dress Up, and the most recently added is Modern Jasmine Dress Up