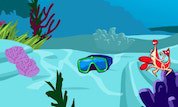 Play Now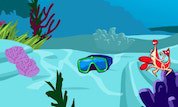 Unfortunately Fish Charades is not available on your device. Please try one of the related games instead or visit our HTML5 category.
This Flash game is loaded using an emulator. If you notice any glitches(such as the game getting stuck or music/sound missing), click to play the original version with NuMuKi Browser for the best experience.
About Fish Charades Game
One of the most beautiful places on Earth is the ocean. If you do not want to believe us, then you can join Nemo and all his friends in Fish Charades game and see for yourself.
They find something exciting and adventurous to do every single day. Just imagine how wonderful would it be if you could breathe underwater and live with them together. Luckily, you can do something else if you want to be a part of Nemo's world, and that is to help him with the activities he takes part. Let's find out how.
How to play the game
What you have to do is not as hard as it might seem at first glance. Just watch the school of fish how they form a shape then using your mouse move to find the object that you saw. When you find it, click to see if it matches. In the ocean, there are different types of artifacts, treasures, and fish. Be careful what the school of fish shows you, and try to guess right every time.
There are two game modes you can choose from, Beginner and Expert. If you decide to play at Expert difficulty, you should be careful because there will be moving rocks, secret caves that you have to explore and many other spots where the objects might hide from you.
Before to start playing, let Nemo know your name, then choose the level you want to begin with. Everything else is just about how much fun you want to have and how good you are at guessing the forms that appear to you.
If you enjoy playing Fish Charades, you might be excited to find out that there are 5 more Finding Nemo games you can try! The most popular is Create a Scene, and the most recently added is Paper Toys