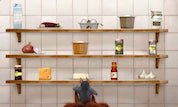 Play Now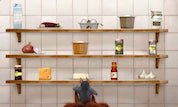 Unfortunately Marionette Madness is not available on your device. Please try one of the related games instead or visit our HTML5 category.
This Flash game is loaded using an emulator. If you notice any glitches(such as the game getting stuck or music/sound missing), click to play the original version with NuMuKi Browser for the best experience.
About Marionette Madness Game
Are you up for an adventure with Remy and Linguini? Well, if you are, join them in Ratatouille: Marionette Madness game! You will play as the rat Remy who is standing on Linguini's head and showing him which ingredients to pick up from the shelf for the three recipes they are preparing.
How to play the game
Use only your mouse pointer (mouse button 1) to pick up the items. There are three levels (three recipes) in this game, and each level is harder than the previous one. Bear in mind that at the beginning of each level the ingredients on the shelves that you MUST pick up will flash in red color for a few seconds, highlighting the items you need to collect.
If you pick up an ingredient that is not in your recipe (the one you don't need) the game timer will "eat" several seconds making you choose faster. Also, during the entire gameplay (all three levels) you have only two hints to help you out to remember what are the ingredients you need (they'll be highlighted again in red).
In the first level, the easiest one, you need to pick up six recipe components out of 14 that are standing on shelves. The second level (medium difficulty) asks of you to find 8 out of 16 on shelves. The hardest level is the third one, and there you need to memorize 11 out of 24 ingredients standing on ledges.
Use your hints wisely since you only can use two per entire gameplay. The Ingredients you will pick up for your recipes are numerous and various. From cheese to spices, oils, jars, and other food.
If you enjoy playing Marionette Madness, you might be excited to find out that there are 11 more Ratatouille games you can try! The most popular is Choppity Chop, and the most recently added is Sort my Tiles