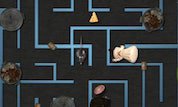 Play Now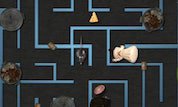 Unfortunately Grab the Grub is not available on your device. Please try one of the related games instead or visit our HTML5 category.
This Flash game is loaded using an emulator. If you notice any glitches(such as the game getting stuck or music/sound missing), click to play the original version with NuMuKi Browser for the best experience.
About Grab the Grub Game
Ready to help the talented and creative cook Remy get from Paris to his kitchen and continue making his favorite dishes? If you are, Ratatouille: Grab the Grub game is perfect for you!
While playing this fun activity, you should navigate Remy, the rat with the incredible cooking skills from the animated movie Ratatouille, through different types of mazes to get all the ingredients for his delicious meals. Remy loves to prepare his delicious meals, and people enjoy them a lot, so you must make it your mission to help him win this game!
How to play the game
You should use the arrow keys on your keyboard to move him through the maze. But pay attention to the chefs who are walking around because they are dangerous and you could lose one of your three lives if they see you!
Even though Remy is a talented cook, the chefs are his worst nightmare, and they are there to make sure he does not succeed! That is why you cannot let them win and have to make sure they do not notice you!
Also, you should be ready to win the race against time since you have a limited amount of it for each level. Pay attention to the countdown timer on the left side of your screen and do not let the lack of time surprise you. If you want to get more time, make sure you collect the moving cheese because it gives you extra seconds, which can be of utmost importance for completing your mission.
You have to plan every step correctly and act with a lot of precision because one false step could cost you a life and eventually get you back to the start. However, with your set of skills and speed, you will have Remy cooking great meals in no time!
Pass each of the levels successfully and enjoy the smell of delicious food Remy makes!
Bon appetit!
If you enjoy playing Grab the Grub, you might be excited to find out that there are 11 more Ratatouille games you can try! The most popular is Marionette Madness, and the most recently added is Sort my Tiles