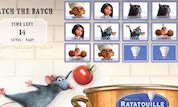 Play Now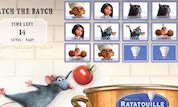 Unfortunately Match the Batch is not available on your device. Please try one of the related games instead or visit our HTML5 category.
This Flash game is loaded using an emulator. If you notice any glitches(such as the game getting stuck or music/sound missing), click to play the original version with NuMuKi Browser for the best experience.
About Match the Batch Game
Do you like memory games? If you do, then Ratatouille: Match the Batch game is the one for you. In this game, you'll first have to choose the level of difficulty you want to play in. You can choose between Easy, Medium, and Hard. All the difficulty levels give you the same game, but it only gets harder to finish it.
How to play the game
Basically, in this game, you'll have three rows, and four columns of cards (12 cards in total) turned upside down so you can't see them. Using your mouse pointer, you can click on two different cards (any of the 12) and the game will reveal the figures.
When you click on to the next pair of cards, the previous ones will hide their face again. The objective is to go through all 12 cards and to try and memorize which card is where. Your goal is to find and match all the pairs (the same images or words).
In Easy Mode, you'll have 60 seconds to reveal all six pairs. The Medium Mode gives you only 40 seconds to discover all of the six pairs of cards. The Hard Mode makes you think quick and to memorize better since you have only 20 seconds to go through all of the 12 cards and remember how and where to find the six pairs.
Cards are showing food ingredients, various chefs, and some of the kitchen related items, like a chef's cap. This game is intuitive, fun, and easy to play as long as you concentrate hard.
If you enjoy playing Match the Batch, you might be excited to find out that there are 11 more Ratatouille games you can try! The most popular is Marionette Madness, and the most recently added is Sort my Tiles