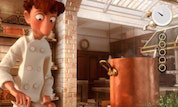 Play Now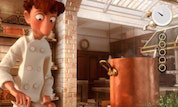 Unfortunately Where's Remy is not available on your device. Please try one of the related games instead or visit our HTML5 category.
This Flash game is loaded using an emulator. If you notice any glitches(such as the game getting stuck or music/sound missing), click to play the original version with NuMuKi Browser for the best experience.
About Where's Remy Game
If you have an eye for detail, try your luck by playing this funny Ratatouille: Where's Remy game and test your focus and precision. Remy, the talented and intelligent rat from the animated movie Ratatouille, is trying to hide inside the restaurant and it is your job to discover where he is.
How to play the game
Find Remy by using your mouse to move around the screen while paying attention to the smallest details such as his tail or his little legs. He could be anywhere, so don't be surprised if you find him where you least expect it. It is quite difficult to spot him, because he is so small and easy to miss while the restaurant is enormous, and the kitchen can get a little bit cluttered. Is he trying to make one of his new recipes come to life, or is he merely hiding from Skinner? Let's find Remy and ask him!
You have to see Remy in three out of five rounds if you wish to win, but things can get quite tricky, so pay close attention to even the smallest parts of the picture in front of you. Remy could indeed be anywhere, and it is necessary for you to activate your detective mode if you want to find him!
You have to keep your eyes wide open because if you click on the wrong part of the picture three times, the game will be over and your mission will be unsuccessful. Just be careful since there is a time limit and it is expected of you to discover where this talented little chef is hiding quite fast.
Are you ready to be a detective? We are sure that Remy cannot hide from you for too long and that you have the precision and the skills necessary to find him in no time! Perhaps he can teach you some of his cooking tricks afterward, who knows!
Have fun with Remy!
If you enjoy playing Where's Remy, you might be excited to find out that there are 11 more Ratatouille games you can try! The most popular is Marionette Madness, and the most recently added is Sort my Tiles