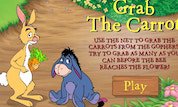 Play Now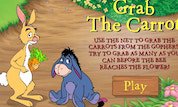 Unfortunately Grab the Carrot is not available on your device. Please try one of the related games instead or visit our HTML5 category.
This Flash game is loaded using an emulator. If you notice any glitches(such as the game getting stuck or music/sound missing), click to play the original version with NuMuKi Browser for the best experience.
About Grab the Carrot Game
Have you ever tried to catch a gopher? No? It is hard, I can tell you. But catching food that gopher is holding is even harder. This is precisely the activity you need to practice in Grab the Carrot game. Using your MOUSE to move the catching net-pole you must catch the carrots that gopher is holding.
There are six holes in the ground from which gopher appears and disappears. When the gopher is out of the tunnel, you need to use your speed and precision to take the carrot from his paws. Pressing MOUSE BUTTON 1 will activate the net, meaning it will collect the carrot from the gopher's hand.
Grab as many carrots as you can
Try to catch as many carrots as possible and the fastest as you possibly can because there is a time in which you must collect as many carrots as possible. Underneath the holes in the ground, a small bee is flying toward the flower bushes. When the bee reaches the flower, the game is over.
There is no known order in which the gopher will show up from the holes, so you need to be steady and ready to catch the carrots. Try to beat your own best score in this fun-filled game.
The gameplay is easy and fun to play with straightforward controls. The only thing you really need is a good focus, fast hands and a bit of luck so you wouldn't miss any carrots at all.
Gophers are very unpredictable animals so you might need more luck than you have imagined.
If you enjoy playing Grab the Carrot, you might be excited to find out that there are 29 more Winnie the Pooh games you can try! The most popular is Winnie the Pooh's Home Run Derby, and the most recently added is The Friend Quilt