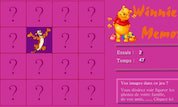 Play Now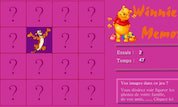 Unfortunately Pooh Memory Game is not available on your device. Please try one of the related games instead or visit our HTML5 category.
This Flash game is loaded using an emulator. If you notice any glitches(such as the game getting stuck or music/sound missing), click to play the original version with NuMuKi Browser for the best experience.
About Pooh Memory Game Game
Bet you are in the mood for an incredible memory game with Pooh and his good friends! If you are, then you should start playing Pooh Memory Game right away!
Winnie the Pooh, wants you to join him for a game that would train your brain and make you smarter! Pooh's friends Piglet, Rabbit, Eeyore, and Tigger are also eager for you to join them and discover the beautiful pictures hidden behind the puzzles. Your goal is to click on the fields and flip them with the purpose of matching the identical tiles. Find all the pairs of similar cards until you make all of them disappear from your screen.
Once you have found two tiles which are the same, they will vanish from the board and reveal a small part of the beautiful picture beneath. Make sure you are focused because there is a counter which keeps track of all your attempts to find the right pairs. The fewer attempts you have, the better player you are, so make sure you know exactly where you should click at all times.
Match all the similar tiles to reveal the whole picture
Also, your time is measured, and speed is your friend because we are sure that you would like to be the fastest one to uncover the picture and win the game. If you want to play one more game and reveal yet another great image, just click on the button given at the bottom right corner of your screen.
This game requires a lot of focus and precision, but it is quite rewarding because you get to see some of the most amazing pictures of Winnie and his best friends! Sounds fun, isn't it? Do you think you are sharp enough to win this game quickly and see all the hidden pictures? We are sure that you are! Join Winnie and friends for this excellent adventure and have an incredible time!
If you enjoy playing Pooh Memory Game, you might be excited to find out that there are 29 more Winnie the Pooh games you can try! The most popular is Winnie the Pooh's Home Run Derby, and the most recently added is The Friend Quilt