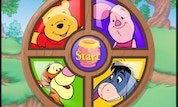 Play Now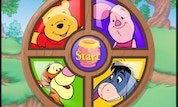 Unfortunately Piglet's Round-A-Bout is not available on your device. Please try one of the related games instead or visit our HTML5 category.
This Flash game is loaded using an emulator. If you notice any glitches(such as the game getting stuck or music/sound missing), click to play the original version with NuMuKi Browser for the best experience.
About Piglet's Round-A-Bout Game
Winnie the Pooh is an adorable, cuddly little bear living in The Hundred Acre Wood, a fairytale wood inhabited by many other fairy characters. The Hundred Acre Wood is his home, he knows every inch of it! Despite Winnie can be naive and a little bit slow, he has a sincere and friendly nature. That's why Winnie's loved by his close friends, which you are going to meet up with in Piglet's Round-A-Bout Game!
It's not a big secret that Winnie's best passion is honey, which often leads him and his friends into troubles. Piglet is Winnie's best friend and another resident of The Hundred Acre Wood. Piglet is a little positive pig, which sometimes appears to be shy and timorous, but due to Winnie's encouragement he always overcomes his fears and shows himself very brave!
Play the Round-A-Bout game together with Piglet's friends
Another character is Tigger, the tiger. His restless and trouble-making personality always makes him rush from one adventure to another one!
Finally, let's also meet Eeyore, the cute donkey. Eeyore feels quite pessimistic about absolutely everything, but that doesn't make him a less friend to Winnie.
And now Winnie, Piglet, Tigger, and Eeyore are calling you into the game! Your task is to repeat the pattern which is appearing on the circle with the pictures of the four characters. Click Start to begin! Watch the characters as they are lighting up and click them in the same order. Repeat the pattern correctly and earn a point! If you make a mistake, you can start the game all over.
Try to be super careful, the patterns go longer as you're making progress. Have fun!
If you enjoy playing Piglet's Round-A-Bout, you might be excited to find out that there are 29 more Winnie the Pooh games you can try! The most popular is Winnie the Pooh's Home Run Derby, and the most recently added is The Friend Quilt