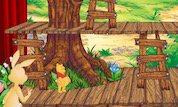 Play Now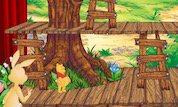 Unfortunately Pooh's Big Show is not available on your device. Please try one of the related games instead or visit our HTML5 category.
This Flash game is loaded using an emulator. If you notice any glitches(such as the game getting stuck or music/sound missing), click to play the original version with NuMuKi Browser for the best experience.
About Pooh's Big Show Game
Winnie the Pooh is the friendly and thoughtful bear who adores eating honey and spending time with his good friends! Join him in Pooh's Big Show game and experience another great adventure! His smart and capable friend Rabbit will be there to guide him and show him the right way during this game. Get ready, because the fun is about to begin!
Your goal is to help Winnie carry all the honey pots to the place marked with a red X without being stung by bees. This game requires you to focus and be very quick because you have to finish everything before your time runs out! You should use your arrow keys to move Winnie around, and you should press your space-bar to pick up the delicious honey pots and carry them to the marked spot. Sounds fun, doesn't it?
Useful tips
You might also want to engage Winnie some additional mini-games if you want to win extra points. However, you must be extremely cautious because his pot will definitely break if he does not win these games. Also, pay attention to the bees because they might sabotage you on your way towards your goal.
When bees notice that Winnie is carrying a honey pot, they will chase him around until they sting him, which will result in him losing one of his three lives. Think fast and run away from the bees as soon as you can if you want the game to last longer and to obtain more points.
Winnie and his friends are impatiently waiting for you to help them finish this exciting mission. Do you think you have the skills necessary to complete it? If you do, then let's begin playing! Good luck and have a lot of fun!
If you enjoy playing Pooh's Big Show, you might be excited to find out that there are 29 more Winnie the Pooh games you can try! The most popular is Winnie the Pooh's Home Run Derby, and the most recently added is The Friend Quilt