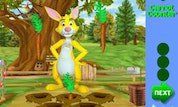 Play Now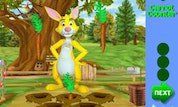 Unfortunately Rabbit Garden is not available on your device. Please try one of the related games instead or visit our HTML5 category.
This Flash game is loaded using an emulator. If you notice any glitches(such as the game getting stuck or music/sound missing), click to play the original version with NuMuKi Browser for the best experience.
About Rabbit Garden Game
Rabbit, Winnie the Pooh's friend, needs help to collect all the carrots that are jumping out of the holes in Rabbit Garden game. Assist him by using your MOUSE to move the cursor.
Move your mouse cursor onto the carrot when you see it, and only then you can press MOUSE BUTTON 1 to make the Rabbit collect the carrot and put it in his basket. Be aware that other vegetables are jumping out of the holes in no order. You'd want to skip collecting the cucumber or corn clip. If you collect cucumber or corn clip by any chance, Rabbit will discard them while being surprised by his catch.
How to play the game
The game is made of three levels. The first level gives you the chance to practice since only carrots are popping out of the holes. Your goal in the first level is to collect three carrots successfully. The carrot counter will tell you how many carrots you've successfully caught.
While proceeding to the next level, your goal will be a bit more challenging to achieve, meaning you'll need to catch five carrots and the game itself gets a bit harder. The legumes will pop out much faster, and there will be all sorts of vegetables popping out, so you need to be careful to catch only the carrots.
The third level of the game will also ask you to catch five carrots, and it'll be a bit faster than the previous ones. Three small lightbulbs below the carrot counter will show you correctly which level are you playing at the moment.
If you enjoy playing Rabbit Garden, you might be excited to find out that there are 29 more Winnie the Pooh games you can try! The most popular is Winnie the Pooh's Home Run Derby, and the most recently added is The Friend Quilt