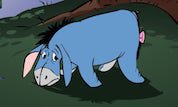 Play Now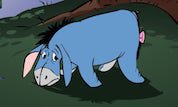 Unfortunately Eeyore Shadow Catcher is not available on your device. Please try one of the related games instead or visit our HTML5 category.
This Flash game is loaded using an emulator. If you notice any glitches(such as the game getting stuck or music/sound missing), click to play the original version with NuMuKi Browser for the best experience.
About Eeyore Shadow Catcher Game
Our poor gloomy friend has lost the only thing that has always been staying next to him in Eeyore Shadow Catcher Game. Can you imagine how hard it would be to live without your own shadow? I will tell you it is quite horrible. This is why we cannot leave him on his own and have to give a hand to get back what belongs to him. You know what they say, a friend in need is a friend indeed. So prove yourself as the most loyal of them all and help him find it.
How to play the game
To do that look very carefully at each particular shadow that will appear on your screen. You can study the shapes as long as you want, and when you are finished with that, try to match them with the image in the center. Only one single shadow will match the given picture perfectly.
Sometimes you might think that there are at least two that match, but look again! You will come across the slightest details that will make the game more challenging that you may have expected at first. When you feel like you have figured out the perfect match, only click on it to see whether you were right or not. If you have made your choice wisely, then you will receive a new set of shadows for a brand new object. If you are wrong, however, you can always try again until you succeed! Nobody will be stopping you from that.
After you have found enough lost shadows of all the objects, Eeyore will be able to have his dear one back just for himself.
If you enjoy playing Eeyore Shadow Catcher, you might be excited to find out that there are 29 more Winnie the Pooh games you can try! The most popular is Winnie the Pooh's Home Run Derby, and the most recently added is The Friend Quilt