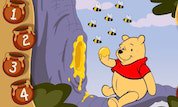 Play Now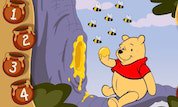 Unfortunately Honey Tree Countdown is not available on your device. Please try one of the related games instead or visit our HTML5 category.
This Flash game is loaded using an emulator. If you notice any glitches(such as the game getting stuck or music/sound missing), click to play the original version with NuMuKi Browser for the best experience.
About Honey Tree Countdown Game
Today is a good day for playing fun math games, such as Winnie the Pooh: Honey Tree Countdown game. Sit back and relax while playing it.
Winnie the Pooh is sitting on the tree branch. He found a honey hole in the tree. His goal is to eat as much honey as possible. But someone is guarding that honey. Who else than bees? Every time Winnie the Pooh puts his paw into the honey-hole a certain number of bees gets out of the whole ready to attack Winnie the Pooh.
How to play the game
There is only one way to defend Winnie the Pooh from being attacked by bees. To save Winnie the Pooh, you must count how many bees got out of the hole and when you count them, use your MOUSE to reach the honeypots on both sides of the screen.
There are 10 honeypots. Each of the pots includes one number (from 1 to 10). Depending on how many bees got out of the hole, you need to match that exact number with the corresponding honeypot. By pressing MOUSE BUTTON 1, you will select the pot you believe is the matching one to the amount of the bees.
Before you select the pot, just by going with your mouse cursor over any of the jars, the narrator will read the pot's number out loud. That way you'll be able to minimize the errors in selecting the right pot number. After you save Winnie the Pooh and the bees go away, Winnie the Pooh will slurp the honey from his paw, and after that, he will repeat the whole process again.
If you enjoy playing Honey Tree Countdown, you might be excited to find out that there are 29 more Winnie the Pooh games you can try! The most popular is Winnie the Pooh's Home Run Derby, and the most recently added is The Friend Quilt