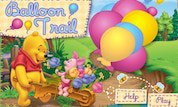 Play Now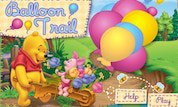 Unfortunately Balloon Trail is not available on your device. Please try one of the related games instead or visit our HTML5 category.
This Flash game is loaded using an emulator. If you notice any glitches(such as the game getting stuck or music/sound missing), click to play the original version with NuMuKi Browser for the best experience.
About Balloon Trail Game
Welcome to the fairytale world of Winnie the Pooh and his friends! Join the little bear Pooh and the cute pink Piglet the Pig in this funny Balloon Trail game! If you like solving puzzles and enjoy improving your logical thinking, Ballon Trail will definitely catch your attention.
Help Winnie and Piglet to collect all the balloons and amaze them with your creativeness and gumption. Here's the task. Winnie and Piglet are living in the Hundred Acre Wood together with their friends. There is somebody they also like a lot, apart from the wood residents: Christopher Robin, a little boy living in the neighborhood! He's also a big friend of Winnie and Piglet.
How to play the game
So, Winnie and Piglet were invited to Christopher's birthday party! There will be music playing loud, guests dancing, and a bunch of delicious food, especially sweet honey! So cool! But before that, the two friends should cross the Hundred Acre Wood and collect the balloons which they should give to Christopher Robin for his Birthday. Help them to deal with that mission.
But there is a lot of trash and other obstacles on the way! Empty honey pots, tree branches, stones and puddles you can fall in. First, you will need to clear the way. Move the honey pots so you can pass further. You don't have to move all of them, just the ones that help you to make a way to the balloons. Try to be precise, you might not be able to move a pot again if you put it in between some obstacles.
There also puddles, do your best not to fall into them; otherwise, you will have to start the level over!
If you enjoy playing Balloon Trail, you might be excited to find out that there are 29 more Winnie the Pooh games you can try! The most popular is Winnie the Pooh's Home Run Derby, and the most recently added is The Friend Quilt