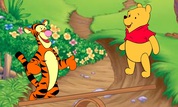 Play Now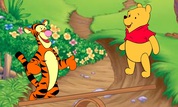 Unfortunately Pooh and Tigger's Hunny Jump is not available on your device. Please try one of the related games instead or visit our HTML5 category.
This Flash game is loaded using an emulator. If you notice any glitches(such as the game getting stuck or music/sound missing), click to play the original version with NuMuKi Browser for the best experience.
About Pooh and Tigger's Hunny Jump Game
Your two animal friends are cooking up a new plan in the Pooh and Tigger's Hunny Jump game! This time, the cute pair has decided to look for some honey. Unfortunately, this isn't an easy task because the beehive is high up on a tree. Will you help your buddies with their genius idea?
It's your chance to lend Pooh and Tigger a hand and complete their newest mission! The honey is kept safely on a branch, and it won't move without your assistance. Your job is to jump at the right time and see if you can reach the beehive! Can you secure a meal for your two friends?
How to play the game
The objective for today's mission is quite simple: help Pooh reach the top of the tree and grab the honey! To do this, use your mouse, and wait until the arrow is on the green area. Then, when you're ready to jump, just click on the screen and see how far you can go! Doesn't this sound exciting?
When Tigger hops on the wooden log, Winnie is catapulted up. Jump as hard as you can, and make sure to reach the top of the tree! Your friends will surely be impressed by your skills!
Did you ever wonder why Winnie and his friends enjoy honey so much? Well, there is one thing you can try to find out. Show off your fast reaction skills and help the residents of the Hundred Acre Wood! Will you be able to time your leap right?
To make sure you reach your goal, you have to pay attention to the meter on the right side of the screen. If you click at the right time, you can secure the sweet honey in one go! Don't worry if you react too slowly! You can try as many times as needed until you succeed.
Well, are you ready for this mission? React quickly and grab the beehive to steal the honey! Pooh and Tigger are counting on you to get their meal ready!
If you enjoy playing Pooh and Tigger's Hunny Jump, you might be excited to find out that there are 29 more Winnie the Pooh games you can try! The most popular is Winnie the Pooh's Home Run Derby, and the most recently added is The Friend Quilt