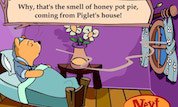 Play Now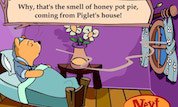 Unfortunately Pooh's Hunnyful Dream is not available on your device. Please try one of the related games instead or visit our HTML5 category.
This Flash game is loaded using an emulator. If you notice any glitches(such as the game getting stuck or music/sound missing), click to play the original version with NuMuKi Browser for the best experience.
About Pooh's Hunnyful Dream Game
Come on in and join Winnie the Pooh in this another honey adventure! Help Pooh to reach the honey pot in Pooh's Hunnyful Dream game.
The funny little bear Winnie the Pooh is one of the inhabitants of The Hundred Acre Wood. He is widely known there due to his fabulous passion for honey. Everyone in the Wood knows: there is nothing that can stop Winnie if he decided to get a pot of sweet honey!
Of course, he's not the only honey adorer in The Hundred Acre Wood. There is at least one more character which craves for honey almost as much as Pooh does. Sure, you already guessed who are we talking about. It's the cute pink pig Piglet! Piglet is the best friend of Winnie following him in all of his ventures. Luckily, their many adventures never go really dangerous... until today.
Follow the honey scent through the maze
There were no doubts that a single thought about honey can lift Winnie the Pooh out of bed. But not literally! Well, it turned out, that when his favorite food is in question, Pooh can leave his house and rush for another honey pot in the middle of a night!
One night a pleasant smell of a honey pot pie crept into Winnie's room. Being a little bit lazy to wake up, Pooh followed the scent staying asleep! He floated up and past the Milky Way to the Honey Way and then stuck in a maze. Help him to get to the honey pot safety and to avoid the little monsters hiding in the maze!
If you enjoy playing Pooh's Hunnyful Dream, you might be excited to find out that there are 29 more Winnie the Pooh games you can try! The most popular is Winnie the Pooh's Home Run Derby, and the most recently added is The Friend Quilt