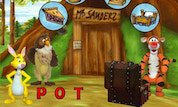 Play Now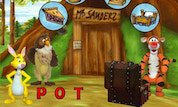 Unfortunately Word Match is not available on your device. Please try one of the related games instead or visit our HTML5 category.
This Flash game is loaded using an emulator. If you notice any glitches(such as the game getting stuck or music/sound missing), click to play the original version with NuMuKi Browser for the best experience.
About Word Match Game
As you might already figure out from the title, this game is a Word Match game. Several friends: Tigger, Rabbit, and Owl, are standing in front of a house of Mr. Sanders and they're playing a game of word matching.
Tigger is throwing letter by letter out from the wooden chest and showing an entire word at the end. That word is then pronounced as it should be, so you can also hear it after reading it. There are four pictures above their heads, which are possible matches for each given word. You must match the word with the corresponding image to be able to proceed with the next word.
How to play the game
Use your MOUSE to navigate your cursor around the screen. When you click with your MOUSE BUTTON 1 on the picture of your choosing, the narrator will read out loud the name of the symbol in that picture. If the words are a match, you won, and you'll get another word. If by any chance you miss matching the word with its picture, you'll receive a blunt sound telling you that you've made a mistake. So, give it another shot.
There is no timer, so feel free to take as much time as you might need to solve these word matches. Be aware that every time you find a match, all of the guys will cheer for your success and feel happy for your score. They are a lovely band, and therefore, you will love playing this game with them. It is a relaxing game meant for younger kids.
If you enjoy playing Word Match, you might be excited to find out that there are 29 more Winnie the Pooh games you can try! The most popular is Winnie the Pooh's Home Run Derby, and the most recently added is The Friend Quilt