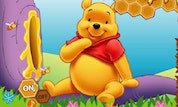 Play Now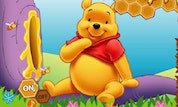 Unfortunately Pooh's Hunny Puzzle is not available on your device. Please try one of the related games instead or visit our HTML5 category.
This Flash game is loaded using an emulator. If you notice any glitches(such as the game getting stuck or music/sound missing), click to play the original version with NuMuKi Browser for the best experience.
About Pooh's Hunny Puzzle Game
Winnie the Pooh has set you another puzzle adventure. In this Pooh's Hunny Puzzle game you need to connect the tiles of the matching colors.
In a honeycomb, you have to match green, blue, and pink colored tiles. By matching the right colors, you will earn hunny bee points. Be careful what colors you are connecting because if you are wrong, you won't find a way to the honey bee.
In addition to colored tiles, you also have tiles with Winnie the Pooh character. Set them at the bottom of the table and connect other lines to these. Collect as many hunny bees as you can for a higher score and a happier Pooh.
How to play the game
To connect the lines, you only need your MOUSE 1 button, but you also need a lot of skills and concentration. Develop a strategy to match the tiles, because if you are wrong, there will be no hunny bees for Winnie the Pooh, and that will make him very sad. Help one of your favorite characters from the Hundred Acre Wood.
The game doesn't seem to be hard but once you start playing you will need all your focus and concentration to connect the tiles in the right order. Help Winnie to reach as many hunny bees as his heart desires, and make him the happiest bear in the Hundred Acre Wood.
Have fun playing this unusual yet exciting puzzle game. Good luck and remember, concentration is the key if you want to earn many points and prove your matching skills.
If you enjoy playing Pooh's Hunny Puzzle, you might be excited to find out that there are 29 more Winnie the Pooh games you can try! The most popular is Winnie the Pooh's Home Run Derby, and the most recently added is The Friend Quilt