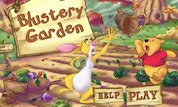 Play Now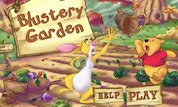 Unfortunately Blustery Garden is not available on your device. Please try one of the related games instead or visit our HTML5 category.
This Flash game is loaded using an emulator. If you notice any glitches(such as the game getting stuck or music/sound missing), click to play the original version with NuMuKi Browser for the best experience.
About Blustery Garden Game
Welcome to the Blustery Garden game! Remember Rabbit, short temper, but also the cute guy? Rabbit feels nervous when things so wrong. He definitely opposes surprises. Rabbit likes everything to be well-planned and organized. Unlike Winnie the Pooh and Piglet, honey doesn't attract him at all. Crazy adventures also can't draw his attention. But of course, there is something he feels proud about: his garden!
Rabbit loves his garden, takes care of it daily, and often is being strongly protective of it. Especially, when it comes to damage. Rabbit will not let anybody destroy his lovely garden!
How to play the game
Unfortunately, a blustery storm came to the Hundred Acre Wood. Imagine, how sad Rabbit feels after the strong wind and the heavy rain made a mess of his garden! What a terrible picture: honey pots, watering cans, and other gardening tools are strewn apart! Can you help Rabbit to clean up the place and put everything back in place?
Start matching things vertically or horizontally to make them disappear. You can move to the next level after you pick up the predetermined number of objects. Watch the time and try to get the job done before it's up! Every saved second gives you bonus points.
Don't let branches take over the garden! You can't move them, but you can make use of the power-ups to deal with the problem. Click the Bumble Bees to clear up all the objects around it. Give the Gopher direction to clear up titles in front of him! Have fun!
If you enjoy playing Blustery Garden, you might be excited to find out that there are 29 more Winnie the Pooh games you can try! The most popular is Winnie the Pooh's Home Run Derby, and the most recently added is The Friend Quilt