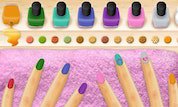 Play Now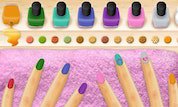 Unfortunately Miley's Malibu Manicure is not available on your device. Please try one of the related games instead or visit our HTML5 category.
This Flash game is loaded using an emulator. If you notice any glitches(such as the game getting stuck or music/sound missing), click to play the original version with NuMuKi Browser for the best experience.
About Miley's Malibu Manicure Game
Have an incredible time with Miley and Lilly while playing Miley's Malibu Manicure game!
Even though Miley might seem an ordinary schoolgirl, she has a superstar alter ego known as Hannah Montana who everybody adores! She does change her clothes and her hair at night when she turns into Hannah, but she would love to keep her manicure so that everybody at her concert can see how beautiful it is!
Give Miley or Lilly the coolest manicure they have ever seen by clicking on the polish colors offered at the top of your screen and by adding stickers and unique patterns as you see fit. Each time you can use a different color and a different design, so it is up to you to make it as stylish and chic as you can!
Pick your favorite colors and patterns!
You are offered the most incredible colors worthy of a superstar, so pick your favorite one! Apply it on the desired nail by placing your cursor over it and clicking your left mouse button. You can also add the cool patterns given underneath the nail polish colors and put them onto the nails. What an exciting thing to do! Pick one of the fun rings which you can see in the left part of your screen by clicking on it and place it on the girl's finger!
Click on the up and down arrows above and below the rings to see what is offered to you. Sounds so much fun, doesn't it? Also, you can place the cutest nail stickers you have seen onto the desired nail by clicking on the best one and putting it on. Make sure to combine all the right colors to help Miley and Lilly have the coolest manicure at school!
If you have already painted a nail and placed a sticker, but you thought of a better idea, no worry, you can always change your mind. Just grab the nail polish remover from the top right corner of the screen and click on the nail that you would like to change. You can zoom on your work by clicking on the magnifying glass in the bottom right corner of your screen. You can also adjust the length of the nails at the bottom part of your screen.
Do you think Miley and Lilly like shorter or longer nails? Would they enjoy the stickers or the patterns more? It's up to you do decide and help the girls get the perfect manicure!
Let the slumber party begin!
If you enjoy playing Miley's Malibu Manicure, you might be excited to find out that there are 21 more Hannah Montana games you can try! The most popular is Hannah Montana Dress Up, and the most recently added is Sound Board Mix-Up