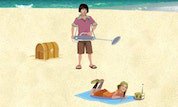 Play Now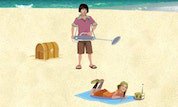 Unfortunately Oliver's Treasure Hunt is not available on your device. Please try one of the related games instead or visit our HTML5 category.
This Flash game is loaded using an emulator. If you notice any glitches(such as the game getting stuck or music/sound missing), click to play the original version with NuMuKi Browser for the best experience.
About Oliver's Treasure Hunt Game
Have you ever been on a treasure hunt? Well if not, this is your opportunity. Join us in Oliver's Treasure Hunt game. This game is all about finding the hidden and buried treasure all over the Malibu beach.
Oliver found a metal detector in his attic and decided to go for a treasure hunt. Use arrow direction keys on your keyboard (UP, DOWN, LEFT and RIGHT) to move Oliver around the beach. When you press the SPACEBAR button, the metal detector will activate. Just push it again to deactivate it so you can save the battery. You should listen to the beeping sounds because as the beeping sound goes faster, you're getting closer to the lost treasure.
At a point when you reach the treasure, Oliver will dig it out of the sand, and then you should take it and store it in your treasure chest. After saving the newly found treasure, you can continue the search for more buried treasures.
Useful tips
Rico followed Oliver to Malibu beach, and he is using his RC plane to annoy and hit Oliver while he is searching for treasures. To avoid being hit by an RC plane, press button "C" on your keyboard to duck.
All over the beach, you'll find several different and useful items for your search. Some examples would consist of battery power item, power field which prevents the RC plane from attacking or fast forward lane to make Oliver walk faster. Use all the perks that this game provides and enjoy it as much as possible because treasure hunting is something we've always wanted to do. Oliver has the metal detector, it's up to you to help him dig out everything or anything he finds.
Have fun!
If you enjoy playing Oliver's Treasure Hunt, you might be excited to find out that there are 21 more Hannah Montana games you can try! The most popular is Hannah Montana Dress Up, and the most recently added is Sound Board Mix-Up