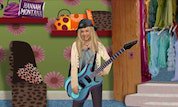 Play Now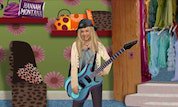 Unfortunately Rock Star Fashion Challenge is not available on your device. Please try one of the related games instead or visit our HTML5 category.
This Flash game is loaded using an emulator. If you notice any glitches(such as the game getting stuck or music/sound missing), click to play the original version with NuMuKi Browser for the best experience.
About Rock Star Fashion Challenge Game
If you love music and clothes, then join us in the Hannah Montana: Rock Star Fashion Challenge game! This game is all about finding the correct outfit for Miley's concert tonight. The concert begins at 8 o'clock, and she still cannot find the perfect match for her show tonight to resemble the replica of Hanna Montana rockstar. Help her out by matching the exact outfit as shown on a flash picture right before the game starts.
How to play the game
Use your MOUSE BUTTON 1 to open/close drawers and everything else. You need to memorize her entire outfit shown in the flash picture, so you can dress her to look the same as in the displayed image. Scrolling through her bedroom and closet, you must open every drawer and every box and purse because you need to find every piece of her outfit! Her jewelry, shoes or boots, pants or skirt, shirt or blouse, hats, and her guitars.
Hurry up! Her limo driver is arriving fast and as soon as the limo approaches, your time for dressing Miley is up! You need to be quick, productive and very well concentrated. If you are not sure what the flash picture showed you, you can click on a button called Fashion Flash, and it will give you several more seconds with the image where she is all dressed up, so you can memorize it again.
Be aware that you need to open every box, every purse, move the door and even look in the basket with dirty laundry. Search everywhere for everything. Hannah's concert is about to start. Did you help her get dressed yet?
If you enjoy playing Rock Star Fashion Challenge, you might be excited to find out that there are 21 more Hannah Montana games you can try! The most popular is Hannah Montana Dress Up, and the most recently added is Sound Board Mix-Up