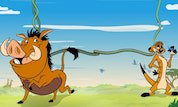 Play Now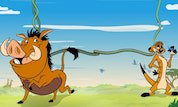 Unfortunately Timon and Pumbaa's Bug Trapper is not available on your device. Please try one of the related games instead or visit our HTML5 category.
This Flash game is loaded using an emulator. If you notice any glitches(such as the game getting stuck or music/sound missing), click to play the original version with NuMuKi Browser for the best experience.
About Timon and Pumbaa's Bug Trapper Game
If you have been looking for a game that will challenge your brains, then you have found one of the best, namely The Lion King: Timon and Pumbaa's Bug Trapper game. This one is perfect for those who like to think before they make a spectacular move that will shock the other player.
Whether you love or hate bugs in reality, it is not relevant here because they will be your pawns. The aim is to trap as many insects of the same color so you can keep them where they are. To do that you need to spice up your strategic skills and to observe your enemy's moves.
How to play the game
Trap the opponent's bugs by placing them between two of yours. When you do that, the insects that got trapped will automatically change color, becoming yours to play. The more you gain through the game, the easier will be for you to catch others.
When you will feel like there is no move to be made and want to skip the turn, click on the button that says "Pass" and your opponent will make his turn, allowing you to create new strategies that are even better.
Try to develop traps and make the other player think that he has got the prize in his hands and strike him with your best moves when he less expects. The winner will be the one that has the most bugs at the end of the game. This is decided when there will be no more free squares to place the bugs.
Prove yourself to be a brilliant fellow and teach Timon a lesson on how to develop an invulnerable strategy.
If you enjoy playing Timon and Pumbaa's Bug Trapper, you might be excited to find out that there are 78 more Retro games you can try! The most popular is Dave's Castle Hunt, and the most recently added is Sonny With a Chance: So Sketchy