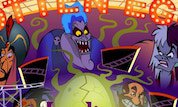 Play Now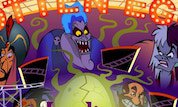 Unfortunately Rotten Eggs is not available on your device. Please try one of the related games instead or visit our HTML5 category.
This Flash game is loaded using an emulator. If you notice any glitches(such as the game getting stuck or music/sound missing), click to play the original version with NuMuKi Browser for the best experience.
About Rotten Eggs Game
What a terrible smell! Even if the Rotten Eggs game sounds disgusting, this time it has a useful purpose. You will throw the rotten eggs at the villains who made such bad things to your favorite Disney heroes.
There are five different levels in the game. Each level is about a Disney story that you know for sure. Let's have a look at what's going to happen.
How to play the game
The first level is about Aladdin. You will recognize the specific decor, and for a few seconds, a lot of villains together with other heroes who made their appearance in Aladdin movie will pop out. Make sure you only hit the villains. For every villain that you target, you will get one point. On the other hand, if you hit the good characters, you will lose a point. When you finish one level, you ride straight to the other one, with the exact number of points that you have from the previous level.
The second level is about Pinocchio. The same rule applies here. Hit as many villains as you can and add points to your score. The third level brings you to Africa, and you will meet Simba. Make sure you only throw the rotten eggs at Scar and at the hyenas.
During the next level, you need to splat Cruella and avoid the Dalmatians. The last level is about Hercules. Do your best to avoid him, and everything will be just fine. After you finish this level, you will see how many points you have. If you want, you can play the game again and try to gain even more points.
Just be careful with your favorite heroes because they do not deserve rotten eggs!
If you enjoy playing Rotten Eggs, you might be excited to find out that there are 78 more Retro games you can try! The most popular is Dave's Castle Hunt, and the most recently added is Sonny With a Chance: So Sketchy