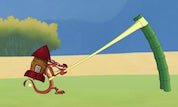 Play Now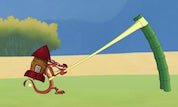 Unfortunately Mushu's Rocket Rush is not available on your device. Please try one of the related games instead or visit our HTML5 category.
This Flash game is loaded using an emulator. If you notice any glitches(such as the game getting stuck or music/sound missing), click to play the original version with NuMuKi Browser for the best experience.
About Mushu's Rocket Rush Game
When you live in China, and you are a little dragon who gets bored quickly, you always find something new and fun to do. Mushu strived to find an entertaining activity to keep the boring days away, so he came up with a new idea of having fun in Mulan: Mushu's Rocket Rush game!
He wants to travel as far as possible using a rocket, and he wants you to control his flight. Let's see how to help him!
How to play the game
Using the left arrow key, stretch the sung. You need to press the left arrow key repeatedly to extend it very well. After that, when you are ready, press the right arrow key only once, to launch Mushu up into space.
The moment he starts to fall, you need to keep him in the air for as much as you can, using the up and down arrow keys. Mushu's friend, Cri-Kee, is going to warn you when an obstacle is around, so make sure you do not land on any of those in your way.
Avoid as much as you can the trees and the flags. They will make you lose. You can land on horses or on the carts full of rockets to get an extra boost. The distance that you made during your flight will count as the top distance for the round you are playing. There are three different rounds, and in the end, you can see what the most significant distance you managed to achieve is.
If you think that you want to have a little bit of fun with Mushu, then you should definitely start playing this game.
If you enjoy playing Mushu's Rocket Rush, you might be excited to find out that there are 78 more Retro games you can try! The most popular is Dave's Castle Hunt, and the most recently added is Sonny With a Chance: So Sketchy