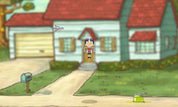 Play Now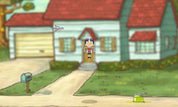 Unfortunately Todd's JetPack Jeopardy is not available on your device. Please try one of the related games instead or visit our HTML5 category.
About Todd's JetPack Jeopardy Game
Play The Replacements: Todd's Jetpack Jeopardy game and see for yourself what is like experiencing a cool way of moving around: flying! Riley and Todd have a baseball match in 20 minutes, and Todd still hasn't left home because he was planning on going by skateboard. But his skateboard is missing!
Riley is already there and waiting, the team is counting on him, and Todd cannot be late. What is he to do? Well, when your mom is a secret agent, you have a couple tricks up your sleeve. He'll take Agent K's old jetpack!
How to play the game
You get to control him with the arrow keys. Running into things will hurt Todd. There are a few obstacles in the air, such as Agent K in her car, Dick strapped to a rocket, and birds, which he must try to dodge.
Todd should also avoid hitting any trees, since he can lose fuel when he takes damage, and if he runs out of fuel before a level is finished, you have to start over. Fail a level three times, and Todd won't make it through the game!
To refuel, you just have to stop by the green canisters on the ground, but be careful. Buzz is in the neighborhood, and he will hurt you! When you've used up all the fuel cans in a level, follow the arrow to the next one, and collect the tokens on your way for a score boost. If you have fuel left at the end of a level, you get extra points.
Don't disappoint the team!
If you enjoy playing Todd's JetPack Jeopardy, you might be excited to find out that there are 78 more Retro games you can try! The most popular is Dave's Castle Hunt, and the most recently added is Sonny With a Chance: So Sketchy