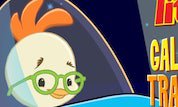 Play Now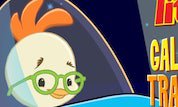 Unfortunately Galactic Traveler is not available on your device. Please try one of the related games instead or visit our HTML5 category.
This Flash game is loaded using an emulator. If you notice any glitches(such as the game getting stuck or music/sound missing), click to play the original version with NuMuKi Browser for the best experience.
About Galactic Traveler Game
Have you ever wanted to discover the universe and see what secrets it hides? Now you have a chance to do it in the new and incredible Chicken Little: Galactic Traveler game. An entirely new world is waiting for you to explore it and learn new things about how it works.
Chicken Little decided to be an explorer, and he went on the most adventurous journey ever. He took a spaceship with which he travels in space. He has a critical mission to accomplish while he stays there, and that is to collect all the panels in the alphabetical order.
How to play the game
The boards will float on your screen, and they have the letters of the alphabet on them. After you manage to collect all the panels in the right order, you need to dock on the particular platform from your screen. Only after you land, you can advance to the next level.
To move Chicken Little, use the left and right arrow keys from your keyboard. They will make Chicken Little's spaceship rotate from left to right. When you press the up arrow key, the spacecraft will move forward.
You need to be careful to get the panels in the right order; otherwise, you will have to try again. When the spaceship runs out of fuel, the game will be over, and you will need to restart it from the very beginning. Also, if you do the order wrong for too many times, you will lose, and you have to play again.
Do not hurry, and you will succeed for sure to explore the space just as you wish!
Good luck!
If you enjoy playing Galactic Traveler, you might be excited to find out that there are 78 more Retro games you can try! The most popular is Dave's Castle Hunt, and the most recently added is Sonny With a Chance: So Sketchy