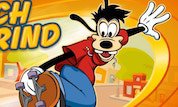 Play Now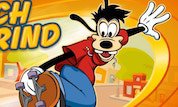 Unfortunately Munch 'N' Grind is not available on your device. Please try one of the related games instead or visit our HTML5 category.
This Flash game is loaded using an emulator. If you notice any glitches(such as the game getting stuck or music/sound missing), click to play the original version with NuMuKi Browser for the best experience.
About Munch 'N' Grind Game
Max has a lot of energy, and since he loves skating, he just wants to grind, but he has a little problem. He is so hungry that he barely can move. Today is your chance to help him in Munch 'N' Grind game! Keep his power up by picking up all the foods that come his way and keep his stomach full all the time.
How to play the game
Using the B key on your keyboard, increase Max's speed pressing it repeatedly. Also, use the up and down arrow keys to jump or to jump down. Collect the apples, the milk bottles, and the sandwiches to feel Max. When his stomach gets empty, the speed will slow down. Watch it on the stomach meter on the low side of your screen.
If you grind on objects like desks or roofs, you will score big points for your final score. The best thing you can do is to chain combos within a limited time to multiply your score. Doing six combos will double your score. Twelve combos will triple your score, and eighteen combos will make your score four times bigger.
You can also pick up bonuses along the way to increase your score. Be careful at the obstacles in your way. Avoid the mailboxes, the flower areas, and the hydrants. They will slow you down, and your stomach will get empty during this time.
Keep Max's stomach full, so he can achieve a high final score at the end of the game. You can also find food on the objects or on air, so do not hesitate to grind on them.
Do not forget that Max's hunger depends on you.
Have fun!
If you enjoy playing Munch 'N' Grind, you might be excited to find out that there are 78 more Retro games you can try! The most popular is Dave's Castle Hunt, and the most recently added is Sonny With a Chance: So Sketchy