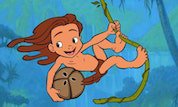 Play Now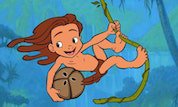 Unfortunately Tarzan Coconut Run is not available on your device. Please try one of the related games instead or visit our HTML5 category.
This Flash game is loaded using an emulator. If you notice any glitches(such as the game getting stuck or music/sound missing), click to play the original version with NuMuKi Browser for the best experience.
About Tarzan Coconut Run Game
Welcome to the jungle! Here you can learn how to live like the gorillas and how to understand them better. More than that, you can make new friends and have some great time together with them. Terk and Tarzan have already started doing it in Tarzan: Coconut Run game.
If you want to join them, all you have to do is follow some simple instructions. You have to help Terk deliver some coconuts to Tarzan. You can use some items you can find in the jungle for that. By placing the right object in its proper place, you would direct the coconuts straight to Tarzan who is waiting for them. The good part is that you can place the items anywhere in the jungle.
How to play the game
The items appear on the lower side of your screen. Click on them and drag them to move. If you made a mistake and you want to remove any of the items, just click on it and then select the trash which will pop up so you can delete it.
If you hit the fruits with the coconut, you will get bonus points. Every extra fruit gives you extra points. Some items are for bouncing the coconut, and others are for changing the direction. When you place propellers, they will blow the coconuts.
From time to time, there might be some black holes. You should be careful when it comes to these because mysterious things may happen if the coconuts get in there.
The faster you deliver the coconuts to Tarzan, the better, so get to work and do not forget to have fun!
If you enjoy playing Tarzan Coconut Run, you might be excited to find out that there are 78 more Retro games you can try! The most popular is Dave's Castle Hunt, and the most recently added is Sonny With a Chance: So Sketchy