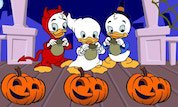 Play Now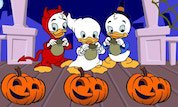 Unfortunately Trick or Treat is not available on your device. Please try one of the related games instead or visit our HTML5 category.
This Flash game is loaded using an emulator. If you notice any glitches(such as the game getting stuck or music/sound missing), click to play the original version with NuMuKi Browser for the best experience.
About Trick or Treat Game
Boohoo! It Is Halloween time in Disneyland, and we all know what Halloween means. Many sweets, candies, chocolate bars, lollipops, caramels, and so on. Every child goes from door to door and asks for their favorite candies. Nevertheless, Halloween is also about tricks and scary costumes. Huey, Dewey, and Louie are playing Disney's Trick or Treat game this Halloween, and they need your help to get as many treats as possible.
The three brothers wear some scary Halloween costumes, and they want to get as many candies as they can. To do it, they have to guess where the sweet treats are hiding. Let's help them out.
How to play the game
You have in front of you three smiley pumpkins, and one of them is holding the treat. They will mix very fast, and you need to pay very much attention to the one with the candy. When they stop mixing, just click on the one that you think that is holding the treat. Be very careful because if you do not get the right answer, you will lose one candy from your bag.
If you have four wrong answers, you will lose the game, and you need to start it all over again. Do your best to collect as many candies as you can, and fill up your bag with the sweet treats. After you guessed once, just press the "play" button, and the pumpkins will mix again.
Huey, Dewey, and Louie are counting on you that you will bring them the most candies they can ever eat.
Good luck!
If you enjoy playing Trick or Treat, you might be excited to find out that there are 78 more Retro games you can try! The most popular is Dave's Castle Hunt, and the most recently added is Sonny With a Chance: So Sketchy