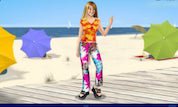 Play Now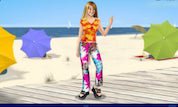 Unfortunately Lizzie McGuire Outfit Design is not available on your device. Please try one of the related games instead or visit our HTML5 category.
This Flash game is loaded using an emulator. If you notice any glitches(such as the game getting stuck or music/sound missing), click to play the original version with NuMuKi Browser for the best experience.
About Lizzie McGuire Outfit Design Game
You cannot miss the Lizzie McGuire: Outfit Design game if you are into fashion! If you have got the right skills, this is the perfect way to prove yourself to everyone!
Help the well known Lizzie McGuire pick the perfect outfit for a day out. Click on "Let's design" and let the fun begin!
How to play the game
You have at your disposal a wardrobe full of the latest fashion clothes. You can choose the coolest outfit from a bunch of different colored shoes, flip-flops, sandals, tops, t-shirts, trousers, skirts, handbags and many other types of accessories.
The pick dress room is subdivided into three parts. On the upper side, on a shelf, you can find different kinds of shoes. In the middle, placed on the hangers you will discover the t-shirts and the tops. If you check the bottom, you are going to see there a few pairs of pants and skirts, plus the accessories.
You can even help the teenager choose the perfect hairstyle for her only by scrolling through the option in the mirror placed on the right side. Once you had decided and picked the right outfit, you can help her dress out by clicking on every item and dragging and dropping them over Lizzie's body. Easy as pie!
When you finish, click on the second shelf of the closet, which is placed on the right side of the screen right under the mirror. Now the well known Lizzie McGuire is ready for a sunny day out on the beach. The girl is going to be in the spotlight, and she is going to have all of her friends' eyes on her!
If you enjoy playing Lizzie McGuire Outfit Design, you might be excited to find out that there are 78 more Retro games you can try! The most popular is Dave's Castle Hunt, and the most recently added is Sonny With a Chance: So Sketchy