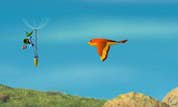 Play Now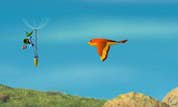 Unfortunately A Bug's Land is not available on your device. Please try one of the related games instead or visit our HTML5 category.
This Flash game is loaded using an emulator. If you notice any glitches(such as the game getting stuck or music/sound missing), click to play the original version with NuMuKi Browser for the best experience.
About A Bug's Land Game
Excited for a new little adventure? Come and play A Bug's Life: A Bug's Land game and lead the exciting life of a tiny ant that wants to fly far away on a dandelion seed.
His name is Flick, and he is ready to be guided by you through the air.
Let's see how to help him.
How to play the game
Click on the screen to give him a little boost and keep him flying in the air. Be careful not to stop for too long! He will lose altitude fast and will fall to the ground, and trust me it is a significant fall for an ordinary ant.
Collect all the things that fall from the sky such as leaves and especially the acorns because you will receive points for them. The leaves will be easier to catch because they float gently through the air while the acorns will fall fast enough to miss them without any effort. To gather them more easily move your mouse to the left or right and the ant will move around accordingly.
Remember to take care, though! On this flight, there will unmistakably be some turbulence. Watch out for the rocks and birds because they will damage your flying-seed bit by bit until you are not able to fly with it anymore. If you get hit more than five times, you will stand no chance in the air.
There is some good news though, each time you collect 5000 points, a new dandelion will appear in your way, and you will be as good as new.
Fly as far as you can and always remember to look at the bright side of flight!
If you enjoy playing A Bug's Land, you might be excited to find out that there are 78 more Retro games you can try! The most popular is Dave's Castle Hunt, and the most recently added is Sonny With a Chance: So Sketchy