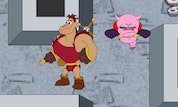 Play Now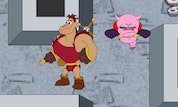 Unfortunately Dave's Castle Hunt is not available on your device. Please try one of the related games instead or visit our HTML5 category.
This Flash game is loaded using an emulator. If you notice any glitches(such as the game getting stuck or music/sound missing), click to play the original version with NuMuKi Browser for the best experience.
About Dave's Castle Hunt Game
Imagine that you can live in a huge castle, full of beautiful treasures and things that you do not see every day. There would be something interesting to explore all the time, and you will have so many things to do that the time will fly without you even realizing it. While you play Dave the Barbarian Castle Hunt game, you will be able to feel like you are living in Dave's times.
The castle is full of treasures right now because Chuckles the Silly Piggy has hidden them from Udrogoth everywhere. Dave needs help to collect all of these things without Chuckles or his vile ogres to catch him. If one of them finds you, you will lose a life, but if you manage to collect all the items, you will get to the next level of the game.
How to play the game
You can move Dave the Barbarian using the arrow keys and pick the treasures by getting through them. Pick up the Red Sweater of Courage that you find on your way to become invincible for a few moments. While wearing the sweater, you can beat Chuckles' ogres and even Chuckles himself. If you manage to preserve your lives through the levels, you will be able to pick up a bonus life.
Keep in mind the fact that Chuckles is following you all the time and do not let him get to you. Every item that you will pick up is going to be restored to Udrogoth safely, but for that, Dave counts on you to help him with this job.
Put your Courage Sweater on and let the adventure begin!
If you enjoy playing Dave's Castle Hunt, you might be excited to find out that there are 78 more Retro games you can try! The most popular is Bobblehead Run, and the most recently added is Sonny With a Chance: So Sketchy