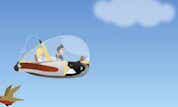 Play Now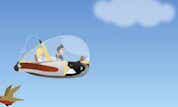 Unfortunately Time Traveler is not available on your device. Please try one of the related games instead or visit our HTML5 category.
This Flash game is loaded using an emulator. If you notice any glitches(such as the game getting stuck or music/sound missing), click to play the original version with NuMuKi Browser for the best experience.
About Time Traveler Game
Lewis and Wilbur wanted to have a little bit of fun with the time machine, but now it is damaged, and the boys have to fix it before Wilbur's dad will find out about it. In Meet the Robinsons: Time Traveler game, you have to help the boys get all the missing pieces they need to repair the machine.
The boys need to navigate over the cities, but the road is dangerous because they can cause damage to the craft too. Let's see what we can do to help them.
How to play the game
Use the arrow keys to move their flying machine and avoid the buildings as much as you can. Also, be aware of the birds that are flying. They will make you lose points, and your repair status will go down. You only have three lives, so you should try as much as you can to avoid losing them.
Collect all the pieces you need from your way, and get all the gas you can. You need it for your craft to keep flying. Once you advance through the levels, the road becomes increasingly harder, and you will have to avoid bubble transportation. If you hit the people from the bubbles, it will damage your ship.
Be careful because the Bowler Hat Guy and Doris are looking for you and you do not want them to find you. Collecting the pieces that you need, you will also get points that will add up to your final score.
Lewis and Wilbur are counting on you to help them get out of those troubles. Show them that you are their friend and help them repair the time machine before anyone finds out about it.
Good luck!
If you enjoy playing Time Traveler, you might be excited to find out that there are 78 more Retro games you can try! The most popular is Dave's Castle Hunt, and the most recently added is Sonny With a Chance: So Sketchy