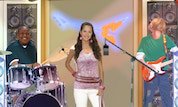 Play Now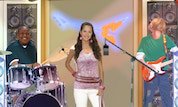 Unfortunately Music Video Match-Up is not available on your device. Please try one of the related games instead or visit our HTML5 category.
This Flash game is loaded using an emulator. If you notice any glitches(such as the game getting stuck or music/sound missing), click to play the original version with NuMuKi Browser for the best experience.
About Music Video Match-Up Game
It takes more than some excellent musicians to organize a concert. The fabulous trio Meena, Cory and Newt are trying to get things done as quickly as possible in Cory in the House: Music Video Match-Up game because their show will start in a matter of minutes and they are not even halfway there.
Here you will see how much effort goes into such an event. You have to make sure that the stage looks as it should and that the lead singer has the proper clothes for this occasion.
How to play the game
Check all the monitors in the studio to see how they had planned to decorate and what to wear. After you memorized some of the objects, go back to the stage and click on different things to change them. Once the item is clicked, a menu will pop out, and you will have to choose between a series of various objects.
Do that with all the things that need to be changed, and if you happen to forget something, go back to the studio to check the screens. If they do not display anything, it means that you have done everything right.
Once in a while, Sophie will come around to make some pranks of hers. She really thinks she is funny, but those jokes will only make you lose precious time. When you see her around, try to fix the things she moves.
Keep an eye on the timer at all times. This way, you will know when it is the time to hurry up. Regardless if you will be ready or not when all the time is gone, the show has to go on so try your best to finish before that, or they will undoubtedly look very unusual for the public.
If you enjoy playing Music Video Match-Up, you might be excited to find out that there are 78 more Retro games you can try! The most popular is Dave's Castle Hunt, and the most recently added is Sonny With a Chance: So Sketchy