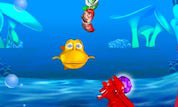 Play Now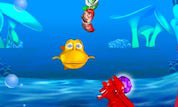 Unfortunately Chomper is not available on your device. Please try one of the related games instead or visit our HTML5 category.
This Flash game is loaded using an emulator. If you notice any glitches(such as the game getting stuck or music/sound missing), click to play the original version with NuMuKi Browser for the best experience.
About Chomper Game
Chomper is a beautiful fish who decided one day that he is done eating only vegetables, and he should go back to eating worms. In Chomper game, you will need to help him swim around the sea and chomp as many red worms as you can and feed the fish.
Using your mouse, move Chomper around when the red worms are coming from the hooks. You just need to pass over them, and he will eat them, himself.
Be careful because from time to time, there will be some moldy green worms in the sea. If Chomper eats them, he will die, and the game will be over. More than this, also an evil purple fish can eat Chomper if he is around. The purple fish is not a vegetarian either, and the game will end if he gets you.
From time to time, the lobster will pass with a jewel on his back. If you grab it, you will get 500 extra points. You can also gain extra points if you collect all the red worms in the fastest time you can.
Try to get all the red worms because the ones who will escape will be subtracted from your final score and you will lose points in this way. You can see your final score at the end of the game, and you can try any time again and do better than the first time.
We want you to have fun during this game, and we wish you the best of luck at chomping as many worms as you can.
If you enjoy playing Chomper, you might be excited to find out that there are 78 more Retro games you can try! The most popular is Dave's Castle Hunt, and the most recently added is Sonny With a Chance: So Sketchy