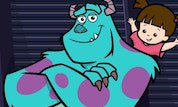 Play Now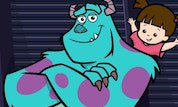 Unfortunately Boo's Hide & Scream is not available on your device. Please try one of the related games instead or visit our HTML5 category.
This Flash game is loaded using an emulator. If you notice any glitches(such as the game getting stuck or music/sound missing), click to play the original version with NuMuKi Browser for the best experience.
About Boo's Hide & Scream Game
Welcome to the Monster Academy. Here you will meet all kind of monsters of all shape and sizes. Most of them are very friendly, and they love to have fun and to meet new people from all around the world. Boo is a tiny little girl who became their friend, and now she takes part in an activity for monsters. You can join her in Monsters, Inc.: Boo's Hide & Scream game for some great fun.
The monsters will hide under some doors, and Boo needs to be very careful. When the doors open, she needs to scare the monsters to get points.
How to play the game
In the right part of your screen, you have the scary meter, which will tell you how much time you still have to scare the monsters. You have to move Boo with your mouse right in front of the monsters and click on them to see how your points multiply as the time passes.
You have to be very fast to do it because the doors will close after a few seconds, and every door that closes means a lost opportunity to scare a monster. When the scary meter is empty, it will depend on the number of monsters you scared if you will pass the level or if you have to play it again.
With every level that passes, you have to scare a more significant number of monsters. If you do not make enough scares, the game will be over, and you have no choice but to restart the game all over again.
Good luck with the scaring!
If you enjoy playing Boo's Hide & Scream, you might be excited to find out that there are 78 more Retro games you can try! The most popular is Dave's Castle Hunt, and the most recently added is Sonny With a Chance: So Sketchy