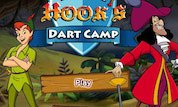 Play Now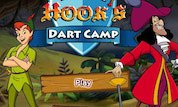 Unfortunately Hook's Dart Camp is not available on your device. Please try one of the related games instead or visit our HTML5 category.
This Flash game is loaded using an emulator. If you notice any glitches(such as the game getting stuck or music/sound missing), click to play the original version with NuMuKi Browser for the best experience.
About Hook's Dart Camp Game
Do you have what you need to become an archer? Well, Peter Pan is willing to train you in Hook's Dart Camp game. He needs one of his own to fight side by side with him, and he wants you to be that one. Do not disappoint him and accept the challenge.
How to play the game
What you have to do is to aim and shoot the arrows into the barrels. On their bottoms, they have targets drawn by the pirates. Depending on where the launched dart lands, you will get a different number of coins.
For just one shot you might get between ten, or, keep your trousers on, one hundred coins. The big prize, though, is only for those who manage to hit straight in the center, so do not be disappointed at first if you do not get it. Archery is something that requires calm and maybe even some maths. Try to predict the place where the barrel is going to be and send the arrow in that place.
Unlike any other game of this type, this one is happening on a ship. This means that the boat will move according to the waves and so will your targets, thus making it more challenging to hit the targets. The barrels will roll around, and you have to think before you aim otherwise you will waste the ammo.
Tinker Bell will be there to help you too, once in a while, she will let another type of target fall. Try to aim for it because it will get you extra arrows for you to shoot. Now go ahead and train!
If you enjoy playing Hook's Dart Camp, you might be excited to find out that there are 78 more Retro games you can try! The most popular is Dave's Castle Hunt, and the most recently added is Sonny With a Chance: So Sketchy