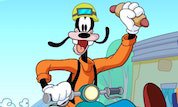 Play Now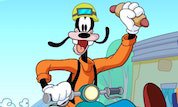 Unfortunately Goofy's Hot Dog Drop is not available on your device. Please try one of the related games instead or visit our HTML5 category.
This Flash game is loaded using an emulator. If you notice any glitches(such as the game getting stuck or music/sound missing), click to play the original version with NuMuKi Browser for the best experience.
About Goofy's Hot Dog Drop Game
Your favorite character managed to get a job in Goofy's Hot Dog Drop game. He has to deliver food and has to do it fast! The whole town wants to have a bite from those delicious hot dogs, so help him satisfy each customer!
He needs to drive on the streets with his scooter and toss food to everyone that is waving at him from their houses. The clients will either be at the upper floor or at the lower, so throw them accordingly.
How to play the game
For a high toss go for the C key and for a lower one try the space-bar, this way you will not fail to deliver correctly. Drive with great care because there are people on the street, and you definitely do not want to hit them with your scooter. Avoid them by steering to the left or right using the arrows.
When you get close to a crossroad, slow down a bit to make sure that there are not any other cars around which might cause an accident. Creating a mess of any kind was not in the job description when Goofy applied for this post.
Collect the gas left on the road to keep your tank full and to give you the chance to complete the orders. Refill your stock as many times as you can by picking up the boxes with hot dogs, they will guarantee you the necessary amount of food for each and every customer. Do not throw the hot dogs at random because this way you will make them unhappy.
Try your best to be the fastest delivery guy and become the employee of the month!
If you enjoy playing Goofy's Hot Dog Drop, you might be excited to find out that there are 78 more Retro games you can try! The most popular is Dave's Castle Hunt, and the most recently added is Sonny With a Chance: So Sketchy